How many of you rested out of connection when travelling abroad? In so many countries it's not a real problem because there are a lot of free WiFi points. But if you're going to Italy it could become difficult because there are few free access points  yet. Instead of it don't worry and say goodbye to roaming: even in Italy you'll be able to post your news on Facebook and the best photos you've ever  taken on Instagram. How to do it? It's fast and simple and it will take you the same time for ordering an Expresso coffee.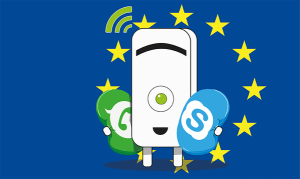 The name of the innovative service is ExpressoWiFi and you can order it directly online before your departure. It provides you a pocket router  you can bring everywhere which makes you able to connect until 10 devices in 4G and with no limits of time and data. You will receive it in the place you're staying and the only thing you'll care about we'll be enjoying your visits, spending time going sightseeing and walking around the most beautiful art cities. With your ExpressoWiFi you'll be able to book museums  and restaurants online, regarding your maps never to get lost, call your friends on Skype and send messages on WhatsApp.
And when you're coming back it will be simple too. You'll just have to send back your router with a free delivery. Staying more time than planned? Don't worry, you'll be able to ask for prolonging your service and paying the difference with your credit card online. The next time you're leaving for Italy don't hesitate to book your personal hotspot WiFi and be able to move everywhere!