You might have played a lot to the Indians versus Cow-boys when you were young. Well, if you are travelling in Paris this summer, the exhibition at the Quai Branly Museum can be helpful to understand a little bit better the origins of the Indians and their story. The name of Indians come from Christopher Colomb's mistake when he arrived in America and thought he was in India. Well this first mistake was the first of a long series of mistake! But this exposition, until July 20th in Paris is very helpful tu understand this culture better.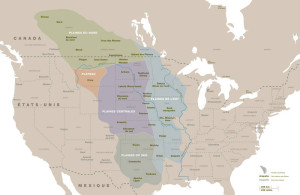 The exhibition consists in 140 objects and artwork which explains well the issues that concerned the Indians from 16th to the 20th century. Even though you know the names of the tribes Cheyennes, Lakotas, Comanches, Crows or even the Sioux, you might not know how they were organized or how they expressed their way of living throughout their art.
This exhibition is really well displayed and very instructive. A must-see! Hugh!
Plains Indians at the Quai Branly museum, Paris, until July 20th
More information: http://www.quaibranly.fr/en/programmation/exhibitions/currently/plains-indians.html