Aah, what could be better than a relaxing holiday spent discovering all the beauties and culinary delights of Tuscany, either on a city break or an escape to the countryside. Well, if you're interested in cycling and love going back to the roots of a culture, if you're intrigued by traditions as old as time, castles, vineyards and ancient abbeys, then nothing could make your Tuscan sojourn more unforgettable than a bike tour of the Chianti area. Located just south of Florence, it produces one of the most internationally acclaimed Italian wines, and is a region that to this day has succeeded in remaining shielded from mass tourism, making it a unique destination. The roads are mostly still the old, dusty tracks that were used of old, winding their way through olive groves and between the vineyard. Although Tuscan food is always delicious in its simplicity, it tastes even better after a long day pedalling up and down the rolling hills, taking in the scents and smells of the land.
There is a huge variety of bike tours on offer to explore this one-of-a-kind territory. Whether you want a one-day experience to break up a city holiday or you truly want to immerse yourself in the atmosphere of this country with a longer stay, there are itineraries for everyone. Even if you've never sat on a bicycle before, or you're simply not hugely confident with the idea of pedalling along narrow, winding roads, there are some tours who offer the possibility of accompanying the cyclists by van, therefore taking in all the sights with none of the sweats!
To start your itinerary in Florence is one of the best ideas, as you can combine the city and the countryside for a true flavour of the Tuscan region. The first village you encounter after leaving the city is Tavernelle Val di Pesa, a charming bundle of houses nested between two luxuriant green valleys. Aside from tasting all the typical Tuscan delicacies such as ribollita (a kind of stew with beans, vegetables and pork trimmings), you can take in the Medieval town centre and take a relaxing walk in the surrounding woods, as well as going for a horse ride across the vineyards and a bike ride along the river. Other unmissable stop-overs of a classic Chianti tour include the fortified Abbey of Passignano, which lies a mere bunch of miles from Tavernelle and dates as far back as the 11th century; Radda in Chianti, the capital of the region, which can be found atop a hill and has done an excellent job at restoring the medieval walkways and city walls, so that you can walk around in a very evocative atmosphere; Castello di Brolio, a splendid castle built in red bricks, home of a baron since the 12th century and now open to visitors who's like to see the beautiful gardens or taste some of the special wines that are produced on the grounds.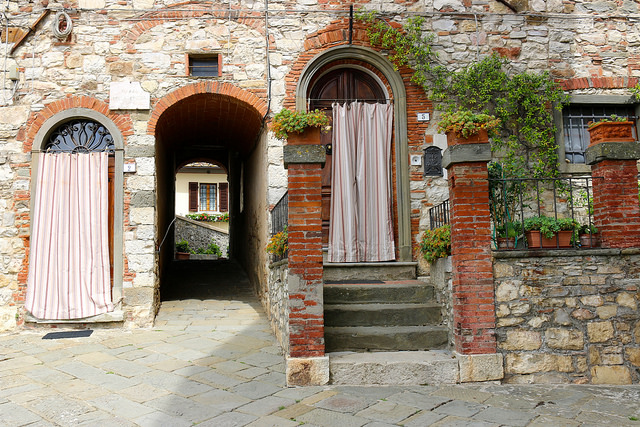 The list could go on and on… Chianti is one of the most exciting and traditional areas of Tuscany, rich in culture, traditions, exceptional gastronomic produce and breath-taking panoramas. There is no better way to enjoy such an exciting region than hopping on a bike and exploring it first-hand. For your Chianti biking adventures, we recommend Tuscany Bike Tours, who provide an excellent service and have an office situated right in the city centre of Florence. With them you can
For more information:
Active Tours Italy
Mail: info@tuscany-biketours.com
Adress: Via Ghibellina, 34-red, Florence
Tel: +39 339 116 3495; +39 055 3860 253; +39 320 410 8314