Do you define yourself as a cookie-maniac? You cannot spend a day without your sweet, soft baked and delicious cookie? Well this world tour of the best cookies in the world is meant for you! Discover the 3 best places that bakes the most exquisite cookies on earth! Ready?
1-      In New-York at the Levain Bakery
In New-York, Levain bakery is a small shop located on the Upper West Side, which offers the best cookies in the whole world! With only 4 flavours (and only 1 flavour that is chocolate free), Levain Bakery bakes cookies that are not only huge, but also soft and delicious! If you finish it, you are a hero! A quick walk in Central Park might be helpful to eliminate the calories that composed a cookie (I don't want to know this information actually!). The best flavor is from far the Dark Chocolate, Peanut Butter chip! Miam!
http://www.levainbakery.com/
2-      In London at Ben's cookies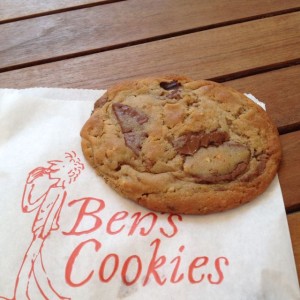 Ben's cookies is the reference for cookies addicts! You can find those stores all around the world now from Singapour, South Korea to Dubaï and of course where everything started: in London! In these shops you have much more choice that in the American shop: 14 flavors and one that is incredibly delicious: the Milk Chocolate-Orange cookie! You have to try it soon and without any moderation!
http://www.benscookies.com/
3-      In Paris at La Fabrique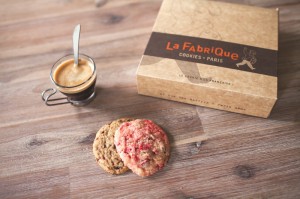 We love cookies and we love Paris. Thanks to La Fabrique those two concepts are now compatible! No need to travel around the globe to eat delicious cookies with all sorts of extravagant tastes like salted butter from Guérande, Calisson from Aix-en-Provence or the lemon and meringue cookie… The variety of flavors makes it harder to choose which one is the best one…! Fortunately the 3 stores in Paris will help us decide on that major matter!
http://lafabrique-cookies.fr/#home