2020 is well and truly the year of the staycation. However, this does not need to be a bad thing; as travel bloggers Ashley and Stuart shared, exploring your homeland can be a uniquely wonderful experience. If you're looking to follow in Ashley and Stuart's footsteps, and want to escape the hustle of regular life without leaving the UK, then look no further than a holiday in Cornwall. With its opulent botanical gardens, rare local wildlife species, and nationally renowned water-sport scene, you don't necessarily need to travel a thousand miles, to feel as though you are a thousand miles away. With so much to explore in this English southern jewel, it can feel hard to know where to begin; however, this guide is here to help:
1. Hike on the South West Coast Path
The 300-mile trail known as the South West Coast Path is the vein of Cornwall, as it runs around the entirety of this rugged county. Hikers, bikers and runners from across the country, and indeed the world, flock to this path, which is recognised by Lonely Planet as 'one of the world's most awe-inspiring hikes'. It is, however, easy to see why, as the South West Coast Path is constructed of striking headlands, rich sandy beaches, quaint harbours and verdant moorland, which have captivated visitors throughout the centuries.
2. Surf on Fistral Beach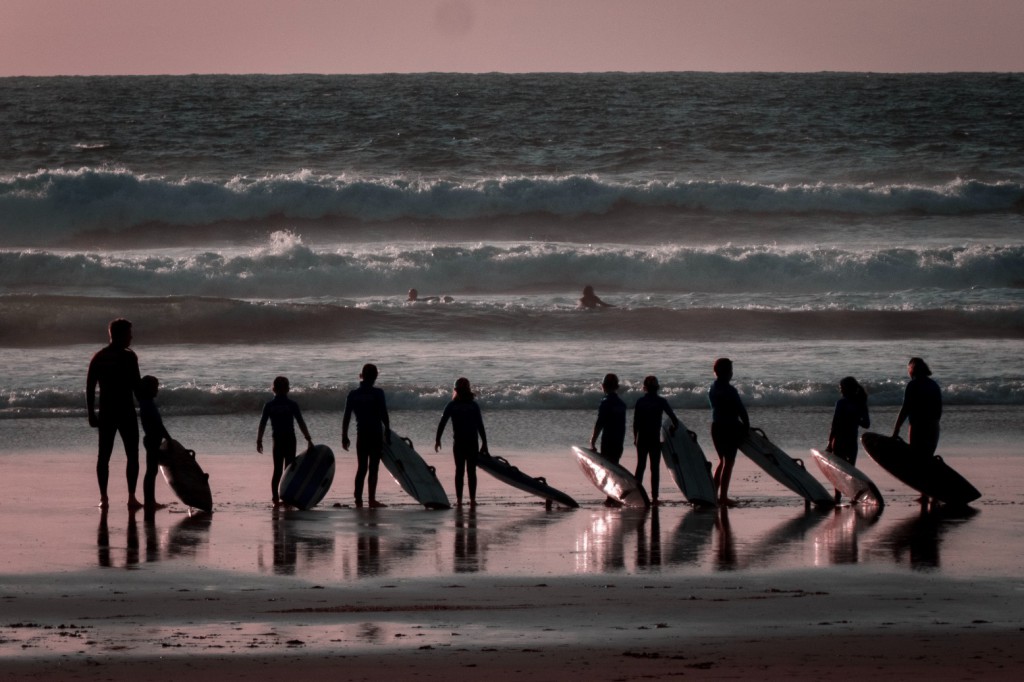 Surfers in Cornwall
Nobody does water-sports quite like Cornwall, especially when it comes to surfing, as the entirety of this county showcases the best scene in the UK. Perhaps the most famous of these shores is Newquay's Fistral Beach, which is particularly noted for its consistently sizeable waves and large swells, making it a surfers paradise. If you are looking to break into the surfing scene, but are yet to try your first wave, then fear not, as local-based companies, such as the reputable Firstal Beach Surf School are on hand to improve your technique; whether you are an expert or a complete novice.
3. Discover Atlantic Creatures
When you hear of Cornwall, the first thing you will probably think of its oceanic shores, which are famed for its rare wildlife, who call this coast their home. There is no better way to immerse yourself in this Atlantic habitat than on a cruise, which set sail across the county. Among the most notable are AK Wildlife Cruises, who offer a range of services which allow you to come face to face with these creatures, from dolphin watching to snorkelling adventures and sightseeing tours. This Falmouth-based company has something for all visitors, whether you are an avid photographer, a marine-enthusiast, or you just want to immerse yourself in the organic nature of the unspoilt Atlantic waves. However you choose to enjoy the sights, you can trust AK Wildlife's Captain Keith to guarantee your trip to Falmouth (and beyond) is unforgettable.
4. Sample Celebrity Chef-Approved Seafood
Any list which addresses the best things to do in Cornwall can not miss the county's prestigious food scene. Though Cornwall may not initially appear as the culinary capital of the UK, the rich selection of celebrity-chef-owned restaurants which are dotted around the county may just surprise you. Among the most prestigious of these eateries is Restaurant Nathan Outlaw, which holds two of the 41 Michelin stars in Cornwall. It is no secret that the best seafood is found at the coast, so why not indulge in the local speciality in the most memorable way possible, and discover your favourite celebrity chef's take on the Great British seaside tradition: fish and chips.
5. Watch a performance at the Minack Theatre
While many people visit the picturesque village of Porthcurno for its close proximity to Lands End, one must not miss the opportunity to catch a show at the impressive outdoor amphitheatre, known as The Minack. The venue, which is constructed from a gully which stretches into the ocean, is the most striking theatre's in the country, as members of the audience can enjoy nationally-renowned theatrical productions, surrounded by scenery which promises to be as impressive as the show itself. Even if you don't count yourself as an avid lover of the arts, it is almost impossible not to enjoy the views from your seat at the Minack Theatre, so be sure to check the schedule during your holiday on the Cornish coast.
Current Recommendations:
While the sun may not always shine in Cornwall (this is the UK, after all) there is still a range of different things to do around the entire year. Keep checking back for our up-to-date recommendations of how to spend your time in Cornwall, whether you are there in the rain, or shine:
AK Wildlife Cruises
At present, as autumn falls over the craggy Cornish coastline, we recommend spending a morning observing the creatures who call the Atlantic home, before some animals migrate to warmer climates, or resort to the deeper waters where they survive over the winter months. As recommended, you can reserve a place on an AK Wildlife Cruise to ensure you catch a glimpse of these sea-creatures, whether you are above or below the oceanic surface. 
Main Office: 01326 316098
Email: info@akwildlifecruises.co.uk
Trevone Bay Adventures
Trevone Bay Adventures is based on Trevone Beach and offers water sports activities. Their instructors and guides are all qualified in the activities they run. On all of their tours there is a chance to see a wide variety of local wildlife. Book a tour with Trevone Bay Adventures to visit some of the most beautiful parts of the local area.
Contact: 018415 520275 / 07498180101